Harper Golf Open raises more than $115,000 for scholarships, programming
Harper Golf Open raises more than $115,000 for scholarships, programming

Harper College News Bureau

June 20, 2017

June 20, 2017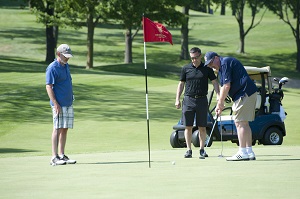 More than 100 area golfers gathered earlier this month for some friendly competition – and to make a meaningful difference in the lives of students.
After all the drives, putts and mulligans were tallied, the Harper College Educational Foundation's 29th Annual Golf Open raised more than $115,000 for scholarships and programming.
"Harper's Golf Open is an opportunity to come together to support some truly deserving students," said Brenda Stiff, Manager of Annual Giving and Events for the Harper College Educational Foundation. "The event's ongoing success really demonstrates the community's commitment to education and student success."
The outing, which included 18 holes of golf, brunch, a cocktail reception, dinner and awards presentation, took place June 12 at the Inverness Golf Club. Jake and Jordan Sadoff of Oak Brook-based hair restoration business Restore by Katona, co-chaired the event.
The Golf Open also featured a raffle and live auction, with prizes ranging from Cubs and Sox tickets to wine tastings and golf packages. Proceeds will benefit Harper's Promise Scholarship Program and numerous other scholarships that help support the College where funding is most needed, amid uncertain state funding.
Next year's Golf Open is already on the books for June 11, 2018, at Inverness Golf Club. For more information about the Foundation, call 847.925.6490 or visit harpercollege.edu/foundation.