Haas Automation car features Harper logo in NASCAR race
Haas Automation car features Harper logo in NASCAR race

Harper College News Bureau

September 27, 2017

September 27, 2017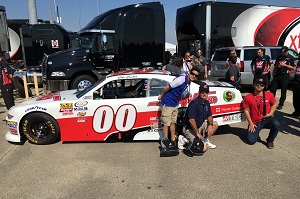 Harper College took to the fast lane earlier this month at the Chicagoland 300 NASCAR race in Joliet.
A decal with the College's logo graced the rear quarter panel of the No. 00 Haas Automation Ford Mustang, which driver Cole Custer led to a seventh-place finish.
Adjunct faculty Mark Nannini and two students got to see the action live.
Assistant Professor Kurt Billsten said the opportunity arose from Harper's ongoing partnership with Haas, which recently awarded the College a $15,000 grant to support student scholarships. The manufacturing program also uses Haas equipment and a few years ago became an hTEC, or Haas Technical Education Center. Next month, Harper will be the site of the third annual regional hTEC Conference.
"Haas likes to feature what they consider to be outstanding hTEC schools on their cars," Billsten said.