Local musician's original song boosting Harper's Giving Tuesday efforts
Local musician's original song boosting Harper's Giving Tuesday efforts

Harper College News Bureau

November 21, 2017

November 21, 2017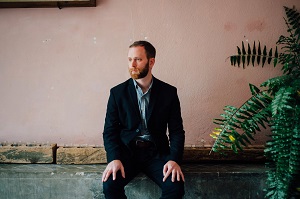 Local singer-songwriter Kevin Prchal is channeling his artistry into a worthy cause this holiday season.
Prchal, who when not performing on the Chicago-area music scene can be found working in Harper College's marketing department, wrote an original song, "Believe," for Harper's Giving Tuesday initiative.
Since its 2012 debut, #GivingTuesday (as it's widely known) has grown into a global movement of fundraising for nonprofit groups. It's celebrated on the Tuesday after Thanksgiving, kicking off the charitable season. Last year, $180 million-plus was raised online in the United States alone.
The Harper College Educational Foundation hopes "Believe," which evolved into a music video, will bolster its goal of raising $20,000 by the end of #GivingTuesday on November 28 in support of student scholarships. Check out the video.
"It's been kind of surreal to have my life outside of work intersect with my life at Harper, but I really think 'Believe' captures the heart of this place," said Prchal, who became Harper's digital content specialist just nine months ago. "It's a snapshot of what we're all about and what we're doing here."
Prchal, of Hoffman Estates, knows a thing or two about songwriting, having released his third full-length album "Love & Summer" earlier this year. After writing "Believe," (the melody came to him while in the Culver's drive-through line), Prchal enlisted the help of some friends and bandmates in the recording studio.
His marketing colleagues at Harper then ran with it, shooting an original music video around the Palatine campus. Even Harper President Ken Ender makes a cameo with some dance moves.
Social media is a huge driver of #GivingTuesday, and "Believe" is no exception. The video already has more than 8,000 views on Harper's Facebook page.
Prchal, who credits his own community college experience with turning his life around, said it's nice to be in a position where he can potentially help others do the same.
"I've been in the corporate world and the startup world, and it feels amazing to be at a place like Harper where I can shine a light on all the wonderful work we do to help students transform their lives," Prchal said.