Harper Theatre Ensemble to stage "Language of Angels"
Harper Theatre Ensemble to stage "Language of Angels"

Harper College News Bureau

April 17, 2018

April 17, 2018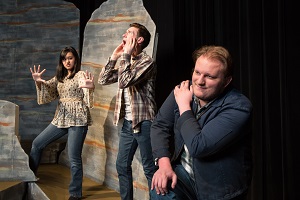 The Harper Ensemble Theatre Company presents a story of grief, loss, guilt and karma in "Language of Angels," a ghost-ridden drama by playwright Naomi Iizuka.
The play runs April 20 to April 29 at the Building L Drama Lab on Harper College's main campus, 1200 W. Algonquin Road in Palatine. Performances will be held at 8 p.m. Fridays and Saturdays and 2 p.m. Sundays.
Directed by Harper alumnus Cale Haupert, "Language of Angels" begins in a cave on the edge of a rural North Carolina town, where a young girl once went missing. One of nine friends is responsible for her death, yet her ghostly, echoed cries will haunt each of them forever.
The performance runs about 75 minutes without an intermission.
Tickets are $15 for seniors and Harper students, faculty and staff, and $18 for general admission. To purchase tickets, contact the Harper College Box Office at 847.925.6100 or visit harpercollege.edu/boxoffice.
Photo: From left to right, Denver Brazier (as Celie), Alexander Rogers (as Seth) and Tom Memmott (as JB) appear in Harper College's production of "Language of Angels."