HOPE Giving Circle awards three $10,000 scholarships
HOPE Giving Circle awards three $10,000 scholarships

Harper College News Bureau

July 25, 2018

July 25, 2018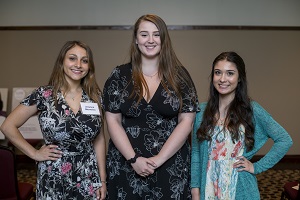 The Harper College HOPE Giving Circle's reach and impact continue to grow.
The philanthropic women's group recently awarded $10,000 scholarships to three Harper students – the giving circle's highest number of recipients since forming in 2016.
"Someone shared a quote with me that says, 'Behind every successful woman is a tribe of other successful women who have her back,'" said Lori Meier, chair of the group's executive committee. "And that's what the HOPE program is doing."
The HOPE Giving Circle, part of the Harper College Educational Foundation, brings together influential women with a common goal of supporting women to pursue higher education and reach their full potential through financial support, ongoing mentoring and leadership development. This year's recipients, who emerged from a field of more than 70 applicants, include:
Sabrina Martinez, a first-generation college student from Streamwood, describes herself as a lifelong learner. To pursue her interest in both immigration law and business, she plans to transfer to Loyola University Chicago and eventually enroll in a dual-degree JD/MBA program.
In addition to maintaining a 4.0 GPA, Martinez is an award-winning member of the Harper speech and debate team and part of the Phi Theta Kappa honors society. She's been an active volunteer at Feed My Starving Children, Phil's Friends and a senior center in Bartlett.
"I've always been afraid that financial obstacles would stand in my way of pursuing higher education, regardless of how much I wanted it," she said. "But that has all changed because of the HOPE scholarship."
Arianna Mormino is an aspiring veterinarian from Cary who embraces the chance to help both people and animals alike. She is part of the honors program and Phi Theta Kappa, and for the past five years has gained valuable experience shadowing a veterinarian. She has also volunteered for the Special Olympics and Inspiration Café, preparing restaurant-style meals for homeless and low-income people.
A particularly meaningful volunteer experience was a service-learning trip she and several other Harper students took earlier this year to Nicaragua. She worked at a rural elementary school and took the opportunity to connect with her Hispanic roots.
"I hope to use this platform I have now to empower other Latinas to reach their full potential and follow their dreams no matter the obstacles that may present themselves," she said.
Emma Rutherford of Schaumburg hopes to one day earn a doctorate degree in English and become an English professor. That's a far cry from her childhood, when hearing problems led Rutherford to have speech delays and generally despise school. With the support of her family, however, she slowly developed a love and appreciation for literature.
Kids have been the focus of her volunteer work. Rutherford was a sports counselor for special needs children, she raised money to help special needs children receive horse riding therapy, and she assisted teachers at Dooley Elementary School with various STEM activities.
"I want to help people to develop the same passion for learning as I've developed," she said, adding that she was overwhelmed knowing "there's a group of women willing to support and guide us."
The trio joins past HOPE Giving Circle recipients Kayla Karbowski, Michelle Feigler and Rachel Kereszturi, who are now Harper alumni. Recipients can use their $10,000 scholarship at Harper and/or a transfer institution. They also benefit from having a mentor and professional development opportunities.
For more information about the HOPE Giving Circle, visit harpercollege.edu/foundation or call 847.925.6490.