New B.E.S.T. Laboratory preparing HVAC students for industry
New B.E.S.T. Laboratory preparing HVAC students for industry

Harper College News Bureau

October 2, 2018

October 2, 2018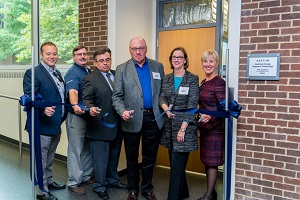 Harper College has opened its new B.E.S.T. (Building Energy Systems Technology) Laboratory to serve as a state-of-the-art resource for students studying building automation systems.
The new lab features modern commercial building technologies and building control systems, whereas most other educational facilities focus on residential systems.
"Building Automation Systems are designed to improve occupancy, comfort and operation of building systems. Reduction of energy consumption and operating costs and improved life cycle of utilities are all good things whether we're in our home or office," said Provost Judy Marwick, adding, "This is the latest in what we need to do to prepare our students for what industry needs."
Air conditioning systems manufacturer Daikin donated more than $50,000 worth of heating, ventilating and air conditioning equipment including VAV boxes, air handlers, a unit ventilator and its complete VRV system to provide students hands-on learning opportunities with advanced HVAC technology.
Legat Architects and IBC Engineering Services Inc. provided the project with architectural and engineering services.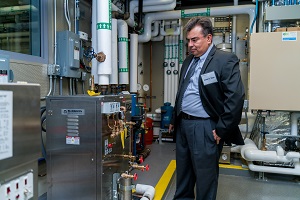 At a recent dedication ceremony, Instructor Jose Vital said the facility will be a "living lab" for students to work on highly sophisticated systems and troubleshoot real problems.
"Systems are more sophisticated than ever before and the demand for these technologies is great, but the training is limited," Vital said. "Harper is changing that."
Harper worked closely with its Heating, Ventilation, Air Conditioning and Refrigeration Advisory Committee to ensure the skills students gain align with the evolving needs of their future employers.
"Harper takes great pride in its community in building partnerships with the companies and employers who can and do employ graduates of the program ... what's happening here at Harper is quite dynamic," said Renee Tomlinson, Director of Strategic Partnerships for Esco Group in Mount Prospect and a member of the program's Advisory Committee.
Daikin and Harper College's commitment to providing more resources for the next generation has driven the project forward on all fronts.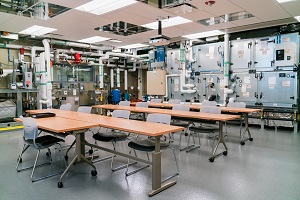 "Daikin is strongly committed to investing in the next generation of HVAC," said Kirk Thorne, Daikin Applied Americas, Executive Vice President of Sales, Marketing and Aftermarket. "Our goal is to continue to find ways to better prepare HVAC tradespeople and students to serve customers in the future. Our donation is aimed at creating better outcomes and developing more advanced expertise within the HVAC trade."