ESPN segment celebrates Harper alumna
ESPN segment celebrates Harper alumna

Harper College News Bureau

February 4, 2019

February 4, 2019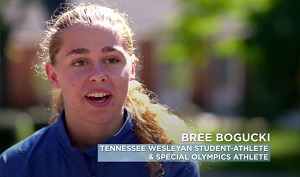 ESPN is celebrating 50 years of the Special Olympics with a story on Harper College alumna Bree Bogucki, who's overcoming her disabilities in a big way.
Now a student-athlete at Tennessee Wesleyan University, Bree is excelling at school, competing for the cross-country and track teams and inspiring others through her advocacy work.
"Even though we may have challenges, that shouldn't define us," she says in the ESPN segment. "We can do things just like everyone else."
Bree was part of the Transition Autism Program at Harper, which is designed to meet the specific needs of students on the autism spectrum as they transition from high school to college. Project TAP, as it is known, provides peer mentoring to improve interpersonal relationships and establish a connection at Harper, specialized academic support, and parent support.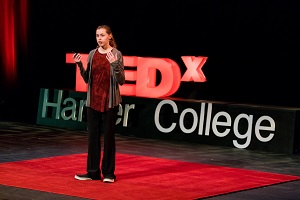 While she was at Harper, Bree ran for the track and cross-country teams, studied human services and was inducted into the Phi Theta Kappa honor society. She also spoke at the first TEDxHarperCollege event in April 2018.
Bree, who has situational depression and generalized anxiety and obsessive-compulsive disorders, said her "disabilities prevented me from living life like a human," but that her life improved through sports and the Special Olympics.
"Sometimes I do kind of reflect and look back and think, like, wow, this is where I came from to here I am today," she says.