Harper - Zurich North America recognize apprenticeship partnership
Harper, Zurich North America recognize apprenticeship partnership

Harper College News Bureau

April 5, 2019

April 5, 2019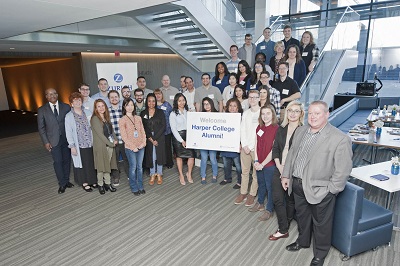 To help develop its workforce for years to come, Zurich North America partnered with Harper College three years ago to offer a first-of-its-kind General Insurance Apprenticeship.
Since then, the Schaumburg-based company has hired 62 individuals into the program, graduated two classes of apprentices and launched a Cybersecurity Technician Apprenticeship.
"We need to bring more people into our business to make sure our talent meets the needs of our customers, and our apprenticeship program does that," said Brian Little, Chief Human Resources Officer at Zurich North America.
Harper College recognized current apprentices and graduates alike during a reception at Zurich through its Stand Up and Be Counted program, an initiative that celebrates area employers that hire Harper alumni.
"It's been a meeting of the minds with Harper and Zurich, and we're very glad we got to play a part in this to help so many apprentices on the way to their careers," said Rebecca Lake, Dean of Workforce and Economic Development at Harper.
Among the alumni in attendance was Ida Mileham of Hoffman Estates, who acknowledges she was unsatisfied with her call center job when she applied to become part of the first cohort of insurance apprentices in 2016.
"I needed a change in my life," said Mileham, who now works in underwriting support services at Zurich. "I didn't go to college, and I was facing the burden of student loans for three kids. I always wanted a career, and that's what I have."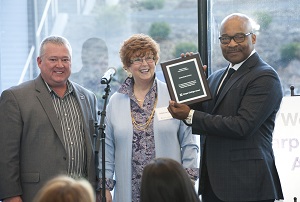 Zurich's apprenticeships are two-year programs in which apprentices work as full-time employees while attending classes at Harper. Zurich pays apprentices a salary and benefits and covers their tuition.
The "learn-and-earn" model was especially appealing to Amaiya Lockwood, a 2018 graduate of Conant High School whose principal informed her of the insurance apprenticeship. Her entire family is thrilled – both that her education is being paid for and for the valuable experience she's gaining.
"There are just so many benefits, like how many of the things we're learning at school, we're immediately seeing at work," she said. "I keep recommending it to my friends who are still in high school."
Insurance apprentices rotate through at least two roles during the program such as claims, underwriting support, premium auditing and human resources. Graduates have moved into positions including business analysts, claim professionals and underwriting assistants.
Apprenticeships are slowly beginning to scale up industry-wide, a welcome development to Zurich. Their goal, according to Little, is for apprenticeships to be the norm, not the exception, in the U.S. and for other companies to see the programs as an opportunity to recruit and retain skilled employees as the workforce starts to age.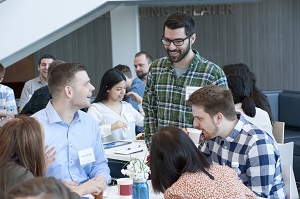 Little also emphasized that apprenticeships are for anyone, from recent high school graduates to adults looking for a career change.
David Jaeger of Barrington had been working in higher education for 10 years when he learned about the new cybersecurity apprenticeship, which launched in August 2018. It sounded like a good fit given his desire to move into a career in technology. In addition to his coursework at Harper, he's preparing for rotations including application security, incident response and threat intelligence.
"I admittedly was a little worried because the other apprentices all have IT backgrounds, but the support I'm getting is huge," Jaeger said. "It's definitely exciting to be part of such a cutting-edge industry."
To learn more about apprenticeship programs and how to apply, visit harpercollege.edu/apprenticeship and zurichna.com/en/careers/apprentices.