Harper alum taking holistic approach to chiropractic care
Harper alum taking holistic approach to chiropractic care

Harper College News Bureau

October 31, 2019

October 31, 2019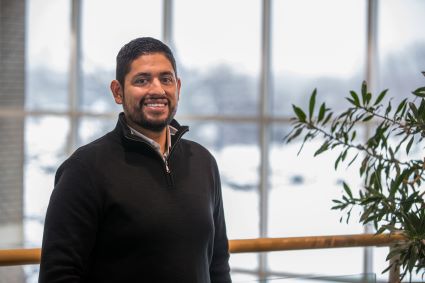 For Harper College alum Dr. Hector Martinez, his educational trajectory was driven in part by the dreams of his parents – first-generation immigrants from Mexico who wanted more for their children.
Those aspirations brought the Palatine native first to Harper, then to Roosevelt University for his bachelor's degree and eventually to the National University of Health Sciences, where Martinez earned a Doctor of Chiropractic Degree in 2010.
Today, Martinez runs his own practice in Schaumburg, Tri Modern Health.
"I definitely didn't grow up wanting to be a chiropractor, but I've always been intrigued with how the body works," Martinez said, noting that a back injury and his own personal experience with chiropractic medicine attracted him to the field.
The support and accessibility of Harper's counselors and professors proved to be "very helpful" as he navigated his career ambitions. Harper also facilitated an internship for Martinez that landed him his first full-time position in the field; he eventually become one of the chiropractors at the Elgin-area organization where he interned.
At Tri Modern Health, which he launched in fall 2017, Martinez plans to expand into nutrition and holistic medicine.
"As a chiropractor, I see that there is a void in health care that I feel I can help many patients with," he said. "I'm always going to do chiropractic work, but working with patients over the last year … there's clearly a need for more well-rounded care including nutrition."
In addition to chiropractic care, Tri Modern Health provides services including acupuncture, physical therapy, posture correction, nutritional assessments, wellness care and lifestyle advice. Last year, Martinez completed a certificate course to provide chiropractic care during pregnancy. Martinez has also completed several marathons and enjoys treating runners and athletes.
Earlier this year, he was voted Best of the Best Chiropractor as part of the Daily Herald's 2019 Readers' Choice awards.
For Martinez, who is the first member of his family to earn a college degree, the push toward higher education began with his parents. He feels a responsibility to perpetuate their dream by serving as a role model to others in the Hispanic community.
"My parents definitely struggled when they first got here," he said. "They gave me a big opportunity to be here and become educated. I think everyone's really excited to see the practice grow."