Harper alumni contributing to Northrop Grumman's strong workforce
Harper alumni contributing to Northrop Grumman's strong workforce

Harper College News Bureau

December 9, 2019

December 9, 2019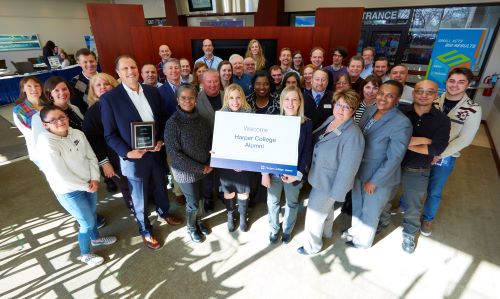 Northrop Grumman's rich tradition of being at the forefront of technology and innovation is getting a boost from Harper College alumni.
The Harper College Educational Foundation recently celebrated Northrop Grumman's commitment to hiring Harper alumni through its Stand Up and Be Counted corporate recognition program.
Among the dozens of Harper graduates supporting the leading global security company's northwest suburban Chicago operation is engineer Heather Lyne, who used to drive past the Rolling Meadows facility on her way to class at Harper in the early '90s. An exceptional student, Lyne could have gone just about anywhere.
"I'm not the type to sit in a 200-person lecture hall, so I knew Harper was the way to go," said Lyne, who as a student joined the cheerleading squad and served as an orientation leader. "It was also great to have that family support while building my independence."
After Lyne transferred to Northern Illinois University to earn her bachelor's degree in electrical engineering (she also earned master's degrees from both NIU and Johns Hopkins University), she found a similar sense of belonging at Northrop Grumman.
"We bring home moms and dads, brothers and sisters, sons and daughters to their families," she said. "That purpose and vision strikes home for me."
In her role at Northrop, Lyne supported the launch of a formal internship program for Harper students in electronics engineering technology, manufacturing technology and supply chain management. She interviewed the prospective interns to see where they'd best fit and excel.
Since the program launched in 2015, the company has gone on to hire more than 20 interns to become full-time Northrop Grumman employees.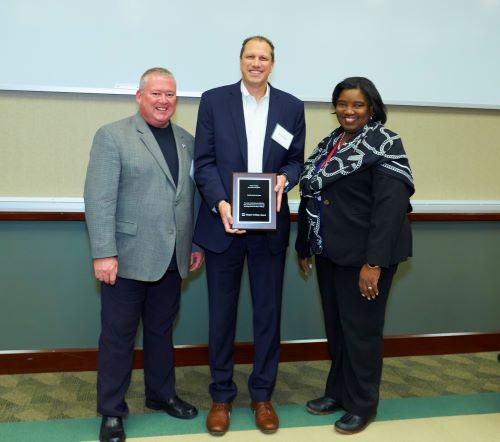 "It's bringing a new vigor to manufacturing and other parts of the organization, and it's breeding a pipeline to the future," said Joe Sarnello, a Harper alum and director of manufacturing at the Rolling Meadows campus. "It's amazing to see how many people who went to Harper are now part of the Northrop community."
The internships, which align closely with Harper's curriculum, provide students with the training, mentoring and hands-on experiences to enable an easier transition into full-time manufacturing positions. Northrop Grumman employees also participate in the classroom as adjunct professors with the college.
Sarah Paxson joined Northrop's manufacturing team in summer 2017, just a couple months after she began her internship. A former yoga teacher, Paxson came to Harper to study welding and precision machining in pursuit of a more stable career. She enjoys the sense of community at Northrop, particularly among the growing number of women entering the field.
"The females who work here are all highly intelligent and strong, and it's an incredibly supportive environment," Paxson said. "It's fulfilling to be part of something that's bigger than yourself."
Harper's ties with Northrop Grumman go back several decades. In 1983, the company established a scholarship for engineering students that continues today. Recipients receive $11,000 over three years to help cover expenses at Harper and then their transfer school.
One of the past scholarship recipients is Harper alum Nate Rapp, who went on to the University of Illinois and became an engineer at Northrop. That path is a bit of a family tradition. Rapp and his five siblings each went to Harper. Of them, one brother also works at Northrop and a second brother is going to start his career there in January.
"Harper has been pivotal for me, being able to set my career in motion without having to shoulder debt," Rapp said. "And the education I received at Harper was better because the professors' interests weren't divided between teaching and research. The classes were intimate and I got to know my professors."
Engineering Director Mark Scheitler also proudly shared his Harper story, saying the ability to take advantage of a diverse curriculum led by talented faculty at an affordable rate "saved" him. It also prepared him to continue his education at the Illinois Institute of Technology and Northwestern University.
"I've had a varied set of experiences that were very positive from an educational standpoint, but none stands out like Harper College," he said. "I'm a huge advocate, a strong believer in what Harper does and a proud Harper graduate."