Harper student revs up her career with motorsports internship
Harper student revs up her career with motorsports internship

Harper College News Bureau

July 26, 2022

July 26, 2022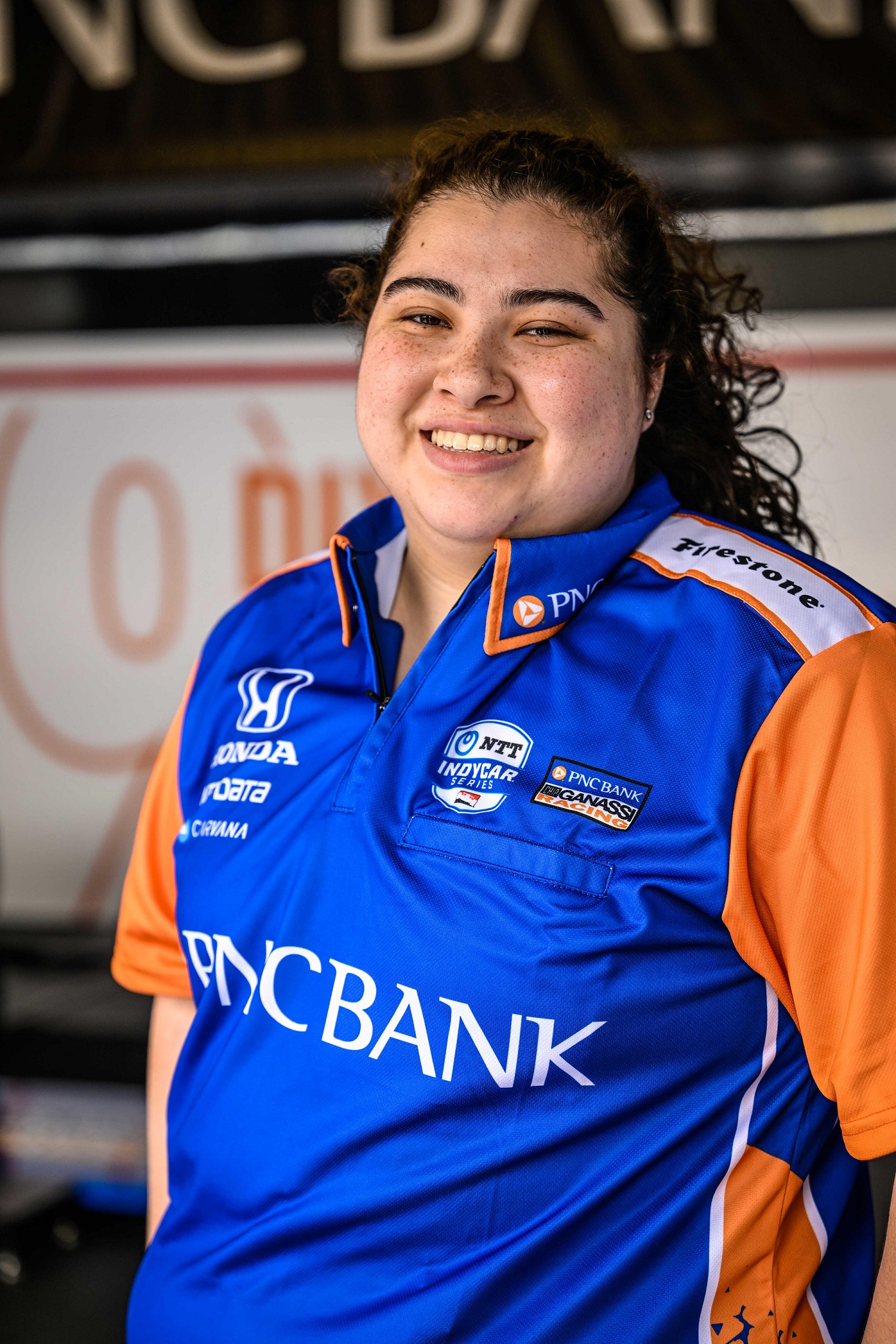 During the first days of her internship, Harper College student Leela Edwards found herself in the pit at the Indianapolis 500. At the sport's most important event of the year, the new kid always watches and observes what's going on.
It's a stark contrast to the day-to-day nature of her motorsports internship, where there's always something to do. The experience so far has been overwhelming and educational.
"It's definitely interesting and fast-paced," said Leela, 22, of Carpentersville. "It takes time to understand and be quick and precise at putting together race cars as one team."
Leela is a Women in Motorsports intern with Indianapolis' Chip Ganassi Racing. She is one of five women to be selected for the PNC Bank-supported internship program, in its first year, and the only one from a community college. Her internship began in late May and wraps up in July, spanning the peak weeks of IndyCar season.
"Our goal is to provide these young women with a unique, in-person experience alongside a race team, to truly understand what motorsports is all about," said Danielle Shephard, a lead engineer at Chip Ganassi Racing, in a news release. "Activating this internship during the race season will help these women apply their knowledge and skills to use in a real-world setting and, hopefully, help them decide where to take their careers from here."
Leela credits Harper for helping her secure the prestigious internship. She specifically pointed to the college's Job Placement Resource Center, which assisted with her resume and cover letter, and explained the interview process. The center also helped with the soft skills necessary to succeed: the importance of being respectful, on time and prepared.
"It all factors into everything," she said.
During her internship, Leela has focused on building and maintaining race cars. It's a path she began to take during sophomore year at Hampshire High School.
She took a computer-aided design class, then an automotive class. She figured she'd learn the basics of cars: how to change a tire, how to change the oil.
"But that first class, you learn to tear down and rebuild a small engine, a lawn mower," Leela said. "I really enjoyed it. It was so precise and organized, and I was like, 'I can do this.'"
She recalls an instance when a screw got stuck during an engine teardown and she had to use a blowtorch to get it out – which means she had to start all over again.
Even with that setback, she still finished the task before anyone else in her class. She compares the experience to racing: Drivers crash their cars and the team comes together to put everything together again in time for the next race. Junior year, Leela took more automotive and welding classes; and senior year, she split her time between Hampshire and Elgin Community College to earn her welding qualifications.
She graduated high school in 2018 and attended the NASCAR Technical Institute in North Carolina for a year. After completing the Automotive Technology program, she moved back home to Illinois and planned to join race teams.
Then the pandemic hit.
Like many other sports, racing came to a halt in 2020. Thinking about her future, and looking to make the most of the time, Leela decided to go back to school for mechanical engineering.
She turned to Harper. She'd heard good things about the college; her father had attended, and "everyone we practically know went to Harper," Leela said.
She's taken engineering, math and other courses during the past two semesters. This fall, Leela is transferring to Indiana University-Purdue University Indianapolis to be closer to the part-time job that Chip Ganassi Racing offered to follow her internship. She plans to pursue a dual bachelor's degree in mechanical engineering and motorsports engineering.
One of Leela's long-term goals is to study or work overseas. She'd love to work as an engineer in Germany. She's always excited to learn about other cultures and languages. Her mother is from Mongolia and Leela grew up in a multilingual house. She speaks a little French, a little German, some Spanish.
Leela also took language classes at Harper. In fact, when she found out she'd landed this summer's internship from her Harper advisor, Leela was in a French class.
"When we had break, I called my dad crying," she said. "I made it."