Library Services during the Flexible Learning Period
Library Resources and Services During the Remote Learning Period.

Library

August 30, 2020

August 30, 2020
F Building: Closed to students until the campus reopens.
Curbside Services: Limited material checkouts will be available through curbside beginning Tuesday, August 25. Click here for details.
Semester Loan Technology: Currently enrolled students can request Chromebooks, calculators, and hot spots first-come, on a first-served basis.
Help from Harper College Librarians:
Please note, Live Chat is staffed 24/7 by librarians nationwide, as well as Harper College librarians.
Electronic Resources: Students have 24/7 access to e-resources via the Library website. Use your "My Harper" Student Portal User Name and Password to log in from off campus.
Library Instruction Sessions: Library instruction continues in flexible and online modalities. For more information, please visit the Library Instruction webpage.
Print Resources: Limited access to the Library's physical collection (print books, DVDs, magazines) is available through Curbside Services.

Overdue fines will not accrue, starting 3/13/2020, until campus reopens.
Until campus reopens, no materials need to be returned.
Due dates for materials are extended, effective 3/13/2020.
Textbook Reserve Collection: NO ACCESS to the print Textbook Reserve Collection. Librarians are working with faculty to make some of these resources available on Blackboard.
Interlibrary Loan Requests: Students will have access to some articles. There is no access to books, media, or other physical items, through interlibrary loan or I-Share.

Make Shop/Makerspace: Closed until the campus reopens.
Library Programs: All Library programs are continuing remotely.

College Archives: Closed until the campus reopens; browse the digital Harper College Archives.
LCC Reading Room: Closed until the campus reopens.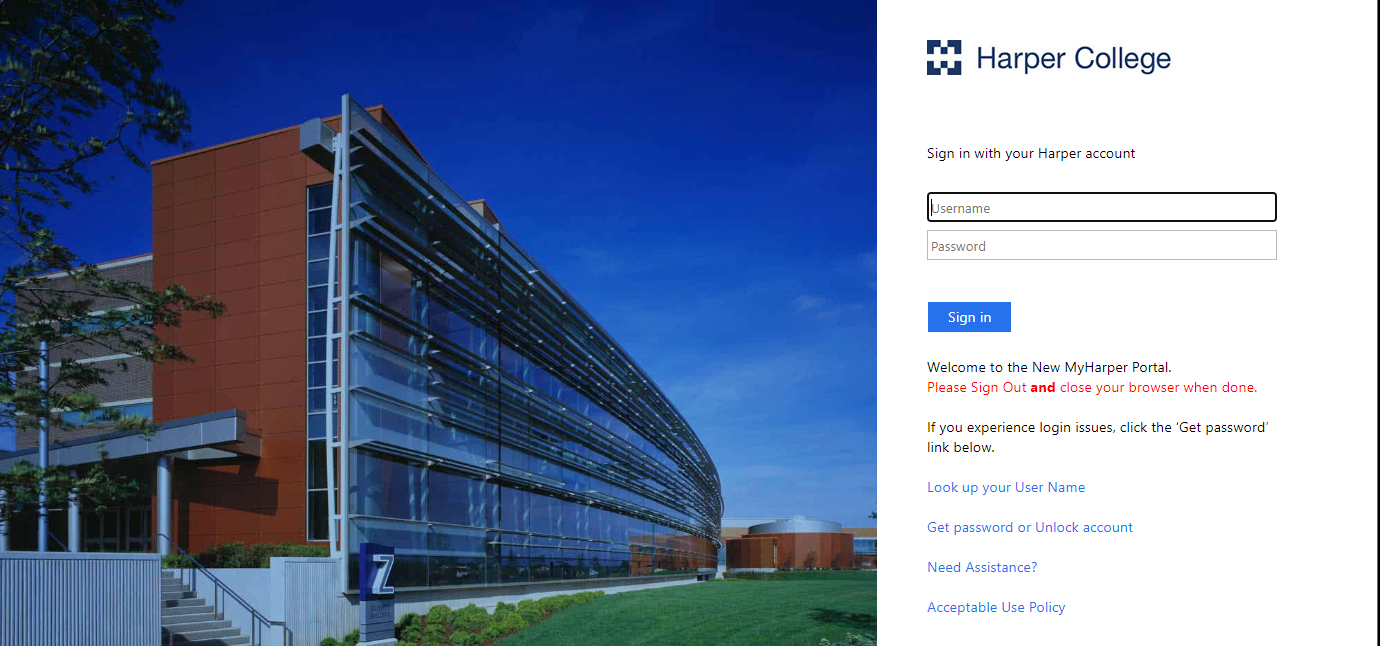 Use your "My Harper" Student Portal User Name and Password to log in from off campus.
Questions? Email a Harper College librarian.
Student Printing through Print Shop
Black and white printing is now available through the Print Shop (limited to 100 copies per semester).
Students can log in at http://printshop.harpercollege.edu using their Harper Credentials (User Id and Password) to upload their prints and will be emailed when job is complete with instructions for pickup. Standard pickup time will be between 2:00 and 3:45 pm Wednesday at the back on building S.
*The Remote Learning Period is subject to change based on institutional response.