Harper student awarded coveted Jack Kent Cooke scholarship
Harper student awarded coveted Jack Kent Cooke scholarship

Harper College News Bureau

May 7, 2017

May 7, 2017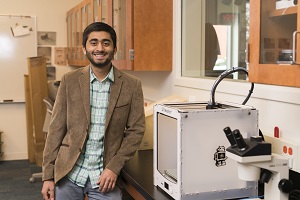 Harper College student Wali Rizvi is still trying to wrap his head around the news he's been awarded the most prestigious scholarship for community college students in the country.
Rizvi, 20, spent most of his life in Karachi, Pakistan, facing many of the issues present in developing countries. He found a calling to feed people as a result of the rampant hunger around him; he was grateful for an ancient Nokia phone that could only call and text; and it wasn't unusual for him to travel with six other people on a single motorcycle.
Rizvi's new reality is a lot of opportunity and open doors as a result of the Jack Kent Cooke Foundation's Undergraduate Transfer Scholarship, which provides up to $40,000 per year for up to three years.
"This is all very unexpected," said Rizvi, an international student currently living with his aunt in Palatine. "Before, I was only able to look at transferring to the most affordable universities. Now all options are open to me. It's a tremendous burden that's been lifted."
Rizvi, who will graduate this month, has applied to some of the country's top engineering programs including Cornell and Columbia in New York. He plans to major in mechanical engineering and minor in computer science en route to becoming a robotics engineer.
Rizvi is the ninth Harper student to be awarded the Jack Kent Cooke scholarship in the past seven years. This year, just 55 students were selected nationwide from a pool of nearly 3,000 applicants. The foundation works to advance the education of exceptionally promising students with financial need.
Instructor Chris Athanassopoulos described Rizvi as among the most talented he's worked with during his career as an educator.
"I regard Wali's aptitude in math and science, his problem-solving abilities and his work ethic and character, as exceptional," Athanassopoulos said.
Rizvi's achievements are plentiful. In addition to his 4.0 GPA, he has held leadership positions in the Phi Theta Kappa honors society (he was one of 15 members nationwide to win a $5,000 Guistwhite Scholarship), the Harper Society of Engineers, the Indian and Pakistani Student Association and the Astronomy Club. He's also in the honors program at Harper and placed highly in multiple Pakistani and international math talent competitions.
Perhaps closest to his heart, Rizvi is the IT manager and Chicagoland program coordinator for Hunger Van, a nonprofit organization that brings food and other essential items to homeless people.
He plans to bring his altruistic spirit to his work as a robotics engineer, perhaps to develop more advanced artificial limbs or a robotic body suit for people with disabilities.
Rizvi looks back at his two years at Harper with pleasant surprise. He chose Harper for its affordability and Engineering Pathways partnership with the University of Illinois, which guarantees admission for qualified students to the College of Engineering. In the end, his experiences in and out of the classroom proved more fulfilling than he ever dreamed.
"These past two years have been extremely rewarding," Rizvi said. "There are so many opportunities at your fingertips; you just need to go for them."
Media contact:Kim Pohl, Media Relations Manager, 847.925.6159