Promise Program gets $1 million boost, praise from U.S. Education Secretary Arne Duncan
Promise Program gets $1 million boost, praise from U.S. Education Secretary Arne Duncan
September 10, 2015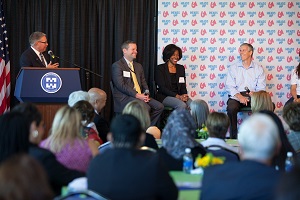 Like many kids, Ivette Castanon made a few trips to the emergency room growing up. The experiences resonated with her, and as a result, the Palatine High School freshman says she knew she wanted to be a doctor before she could even spell the word.
On Wednesday, U.S. Secretary of Education Arne Duncan told more than 150 area education, business and philanthropic leaders gathered on campus that he envisioned two things happening a decade from now. One, Ivette would be a college graduate – the first in her family – and on her way to medical school. And two, the Northwest suburbs would be reaping the many benefits of Harper College's Promise Scholarship Program.
"Our communities are going to thrive," Secretary Duncan said. "We're going to attract good jobs, we're going to attract businesses. You're in the game in a really big way."
He added, "I appreciate the collective commitment to what this is going to do to strengthen this entire region. It's a really big deal long term."
Secretary Duncan visited Harper to recognize its Promise Program, which offers free tuition for up to two years to every public high school student in the district if the student meets requirements for college and work readiness. Those requirements during high school include good attendance, a "C" average or better each year, performing community service and graduating on time and college-ready.
The Education Secretary discussed the importance of public-private partnerships and programs such as Promise as part of a panel moderated by Harper President Dr. Ken Ender in the Wojcik Conference Center. Other panelists included Ivette, Harper Promise parent Tanya Williams, District 214 Superintendent Dr. David Schuler, retired Nation Pizza and Foods Chief Operations Officer Mike Alagna and San Juan College President Dr. Toni Hopper Pendergrass.
Duncan's visit coincided with a national push yesterday to begin building momentum to make tuition free at community colleges across the country. The America's College Promise initiative is based on the idea that by 2020, an estimated 35 percent of job openings will require at least a bachelor's degree, while another 30 percent will require at least an associate degree or some college.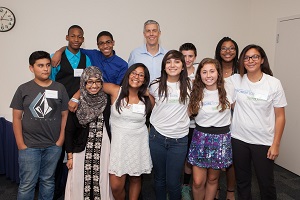 "We firmly believe that every child will need some form of post-secondary education in order to survive and thrive and earn a living wage in this ever-changing global economy," said Dr. Schuler, who noted that his district's poverty rate has jumped from 8 percent to more than 30 percent over the last 11 years. "We have a moral obligation to provide every opportunity to change dreams and lives and create jobs in our local community."
One philanthropic couple who firmly believe in the Promise Program's ability to change the trajectory of thousands of lives provided a big boost. Dr. Ender announced Vince and Pat Foglia of Lake Barrington are donating $1 million to support the College's efforts.
Dr. Ender said the Foglias aren't donors, but rather investors.
"This is an investment, this isn't a gift," Dr. Ender said. "(They're) not giving away a thing."
Secretary Duncan concluded his remarks on an inspirational note, saying Washington is more likely to step up and change if it sees leadership from around the country at places such as Harper.
"A high school diploma is fantastic, but it is absolutely insufficient to getting a good middle-class, high-wage job," he said. "So, the goal has to be for every young person today to think, 'I am graduating high school and I'm going to some form of higher education.' This community is saying that's going to be the norm."
For more information about the Promise Program, visit harpercollege.edu/promise.
Media contact: Kim Pohl, Media Relations Manager, 847.925.6159