Special Observatory viewing for total lunar eclipse
Special Observatory viewing for total lunar eclipse
September 25, 2015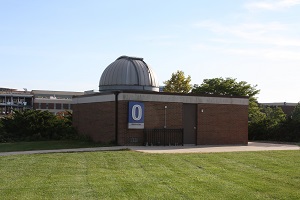 Harper College will open its Observatory doors this Sunday night for a particularly special celestial event. The total lunar eclipse on Sunday, Sept. 27, will coincide with a so-called "supermoon," a pairing that hasn't happened in more than three decades and won't again for another 18 years.
The free community viewing will start at 7 p.m. at the Karl G. Henize Observatory on the College's main campus, 1200 W. Algonquin Road in Palatine.
During a total lunar eclipse, the Earth passes between the full moon and the sun. The Earth's shadow covers the moon, an alignment that typically results in the moon looking a reddish color in a phenomenon known as a "blood moon."
This lunar eclipse coincides with a supermoon, meaning the moon will look bigger than usual because it's a little closer to Earth than at other times during its orbit. According to NASA, there have been just five such events since 1900.
Regular viewings at the Observatory will continue every other Saturday night from 7:30 to 9:30 p.m. on Sept. 26, Oct. 10, Oct. 24, Nov. 7 and Nov. 21. Volunteers are on-hand to guide novice viewers. The main telescope is a Meade 14-inch Schmidt-Cassegrain telescope, allowing Harper faculty to do research-grade work.
For more information, visit harpercollege.edu.
Media contact: Kim Pohl, Media Relations Manager, 847.925.6159