Harper's 15th annual Latino Summit a success
Harper's 15th annual Latino Summit a success
November 23, 2015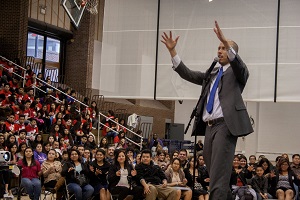 At 16, Andres Lara escaped from Cuba broke, homeless and speaking no English. Within 10 years, he was a nationally respected speaker and author.
"The Cuban Guy," as Lara is widely known, shared how he went from living on the streets to living his dream at Harper College's 15th annual Latino Summit.
The all-day summit, which was held November 20, aims to instill the value of higher education and the importance of sticking with school amid the reality that Latino students seek out college less frequently than their peers.
Nearly 500 students – most of them high school freshmen – from 13 schools attended. They heard from 55 professional Latino panelists, some of whom attended the Summit themselves years ago. They discussed obstacles they've encountered, how they incorporate their cultural identity into their professional life and advice they have.
About 60 current Latino college students also relayed their experiences on various campuses.
Juanita Bassler, a recruiting specialist at Harper and one of the event's organizers, said a majority of the students come from families in which going to college is far from a sure thing. Seeing others like them going on to do successful things is the best motivation.
"We're in our 15th year now, and it has been incredible to see the rate of retention among students who came to the Summit when they were freshmen," Bassler said. "They're finishing high school, and many are continuing their education beyond that."
Several scholarships were also presented to graduating seniors who attended the Latino Summit as freshmen.