Polly's Kids Scholarship to benefit single parents studying at Harper
Polly's Kids Scholarship to benefit single parents studying at Harper

Harper College News Bureau

November 12, 2018

November 12, 2018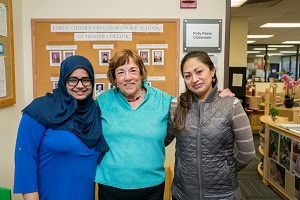 Olive "Polly" Paine was a visionary during her time, a highly educated woman – she earned a PhD from Yale in 1930 – who devoted her life to developing innovative early education programs.
Her memory will continue to live on through Polly's Kids Scholarship, providing single parents an opportunity to send a child to Harper College's Early Childhood Laboratory while they pursue their studies at Harper.
The inaugural Polly's Kids Scholarships, which covers full tuition at the extended care preschool program, was awarded this fall to accounting student Ana Sandoval of Schaumburg and budding sonographer Sherry Baluch of Arlington Heights. Both women have daughters who attend the Early Childhood Laboratory.
"My aunt was a really special person who dedicated her life to kids," said niece Jody Paine. "This just seemed like the perfect way to honor her."
The Educational Foundation recently dedicated one of the classrooms in the Early Childhood Laboratory the "Polly Paine Classroom" in recognition of Jody Paine's $167,000 contribution. During the dedication event, she was presented with a book about Polly Paine's life, illustrated by kids at the preschool.
Laura Brown, Vice President and Chief Advancement Officer, said the scholarships will help relieve the burden of childcare expenses.
"Our two recipients won't have to work as much and will be able to study more, which we love," Brown said.
Polly Paine led a remarkable life, earning degrees from the University of Chicago and Columbia University before studying at Yale. She rubbed shoulders with New Dealers, radical young socialists and Nobel and Pulitzer Prize winners and developed the teacher's program at the newly formed State College in Long Beach, Calif.
When her sister died and left behind small children, Paine took care of her nieces and nephews for the rest of her life.
"My aunt never married, and it seemed fitting to create this scholarship for single parents who face that many more challenges," Jody Paine said. "Daycare is incredibly expensive, and my hope is that these scholarships will help provide a leg up."
The Early Childhood Laboratory School of Harper College received the Gold Circle of Quality designation from Excel Rate Illinois. Its student-to-teacher ratio is above the average with four adults for every 20 students. The award-winning facility has been caring for and educating children for more than 30 years with a curriculum based on the philosophy that young children learn through active exploration in an environment rich in materials and opportunities to converse, socialize, work, play and negotiate with others.