HOPE Giving Circle hits $100,000 milestone
HOPE Giving Circle hits $100,000 milestone

Harper College News Bureau

July 24, 2019

July 24, 2019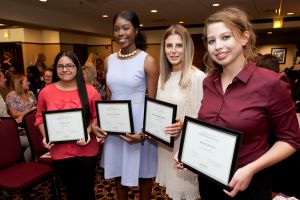 When the Harper College Educational Foundation formed the HOPE Giving Circle, it set out to bring together women of diverse backgrounds to support women in achieving their educational and professional goals.
Just four years later, the group's impact is already considerable.
HOPE Giving Circle at a reception last week awarded $10,000 scholarships to four deserving students, bringing the total amount awarded to $100,000 for 10 young women since the group's inception.
"This is an incredibly powerful scholarship program, and it's just going to get stronger," said Lori Meier, chair of the HOPE Giving Circle Executive Committee.
Scholarships are awarded to female students entering their second year at Harper who are planning to transfer to a four-year institution to complete a bachelor's degree. In addition to the scholarship, the HOPE Giving Circle provides mentoring, professional development and leadership opportunities. Selected from a competitive pool of 60 applicants, this year's recipients are:
Aleksandrina "Alex" Aleksandrov
Aleksandrina "Alex" Aleksandrov didn't speak English when she came to the U.S. four years ago. Today, she's a nursing student with a 4.0 GPA and ambitions of becoming a nurse anesthetist. Alex works part time as a student aide in the ESL and International Student Office, is a peer tutor in the nursing lab and will serve as president of the Harper College Student Nurses Association. She's already putting her health care skills to work, as well, volunteering at hospitals to administer flu shots and support Be the Match Bone Marrow Donor Registry efforts.
"As a first-generation college student, it means the world to me to receive a scholarship like this," Alex, of Roselle, said. "It will allow me to study hard and be the best nurse I can be."
Oyinkansola "Sol" Akinola
A fashion merchandising student with a near perfect GPA, Oyinkansola "Sol" Akinola plans on transferring to fashion school in New York after graduating from Harper. She's particularly interested in sustainability in the fashion industry, saying she wants to "make a positive difference in the exploitation of marginalized communities when it comes to the production and distribution of garments. I am determined to cultivate my own ethical and sustainable channel of production, focusing on the betterment of women of color." Sol, who studied abroad this past spring at the American Business School of Paris, also volunteers as a mentor and counselor at Inner City Arts in Chicago and was a speaker at Yale University's Annual Black Solidarity Conference.
"With this scholarship, I'll be able to focus on my studies instead of working two to three jobs," Sol, of Schaumburg, said.
Ariana Herrera
While Ariana Herrera's educational journey at Harper officially began last summer, she's been walking campus hallways for far longer. As Professor Pascuala Herrera's daughter, Ariana learned as a child that Harper's doors would always be open to her. She's currently thriving, wrapping up her first year with a 4.0 GPA and a goal of going to medical school to become a pathologist. She also works in Admissions Outreach as a student aide and volunteers at her parish. She's confident that the HOPE Scholarship will help guide her to success in the STEM field.
"In the future, when I'm able to look back to where I studied and grew as a student, I'll know one of the first stepping stones that got me to where I am is because of the amazing support of Harper College," Ariana, of Franklin Park, said.
Aleska Schwartz
Aleska Schwartz maintains a 4.0 GPA in Harper's Engineering Pathways program, which guarantees her admission into the College of Engineering at the University of Illinois. The budding civil/environmental engineer hopes to help the planet through the advancement of sustainable technology. She's part of the Honors Program, active in the Society of Engineers at Harper and aided in the development of the new Makerspace and Entrepreneur Center by helping to build and set up 3D printers and laser cutters.
"The excellent resources, professors and peers that I have at Harper have exceeded way beyond my expectations," Aleska, of Hoffman Estates, said. "I could not ask for a better opportunity, and I know that I will be well prepared for UIUC along with my future career."
To learn more about the HOPE Giving Circle, visit harpercollege.edu/foundation.