Academic Support Center Provide Free Help
Academic Support Center Provide Free Help

Marketing Services

November 23, 2015

November 23, 2015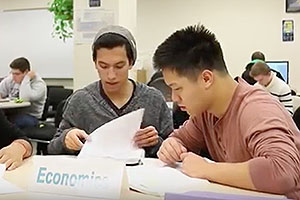 Having trouble with a class? Need to improve your study skills? Check out the hundreds of resources offered by the Academic Support Center – all free for Harper students.
Success Services provides academic support for Harper students. Topics include study skills, test-taking, time management, motivation, concentration, reading strategies, math strategies and note-taking.
The Writing Center offers 50-minute appointments with an English tutor, walk-in consultations and online support.
The Tutoring Center provides free tutoring for Harper students in more than 200 courses.
Jenni Huber credits the Tutoring Center with helping her get a successful start in the accounting program. "My advice to Harper students -- Use the free services" she said. "Everyone there is really interested in seeing students succeed."