Campus Recreation Virtual Workouts
Campus Recreation Virtual Workouts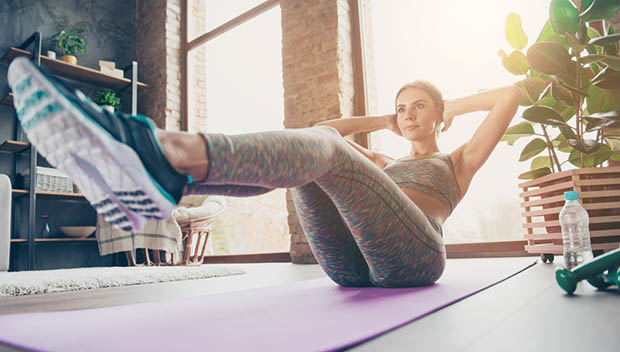 Campus Recreation wants you to stay healthy and physically fit while practicing physical distancing. Click on the links below to participate in our live workouts with our certified group exercise instructors.
Note: We will also post our live workouts on the Harper Events Calandar and on our Facebook page @HarperCampusRec.
Campus Recreation Live Virtual Workouts: August 3 - 9
Monday 4:30 p.m. Zumba w/Yumi 60 minutes
Tuesday 4 p.m. Yoga w/Cat 60 minutes
Wednesday 4:45 p.m. HIIT w/Beth 60 minutes
Thursday 8 a.m. Body Flow w/Dan 60 minutes
Friday 12 p.m. Core Strength and Stability w/Cindy 60 minutes
Saturday 9:30 a.m.HIIT w/Beth 60 Minutes
Sunday 11 a.m. Zumba Nation w/Jenn 60 minutes
Live with Laura: Ask the Trainer
Join us every Thursday at 12 noon live on Instagram @harpercampusrec as personal trainer Laura discusses everything fitness. Each segment has a different theme and cover many different subjects including, healthy summer sweets, exercising in the heat and sun, fitness habits you need to break and more.
More Virtual Workouts from Across the Nation
Harper College Campus Recreation is currently working with numerous colleges and universities from across the nation to bring you a variety of virtual workouts that you can do from home. Click on the links below:
Harper College Campus Recreation Workout Descriptions
Core Strength and Stability
This core workout combines both barre-style and mat based exercises designed to activate your glutes, quadriceps, hamstrings, deep abdominal and lower back muscles. These body weight exercises will strengthen your core muscles increasing balance and flexibility, thereby enhancing mobility. All you need is a mat and chair! (All Levels)
Body Flow
You will breathe, focus, move, stretch and balance like never before. Body Flow allows you to move with your breath while building strength and working on your core, deep abdominal muscles, hip and lower back. (All Levels)
HIIT
This non-stop powerhouse workout is guaranteed to burn calories and get your heart pumping. HIIT includes High Intensity Interval Training by combining strength exercises with cardio in short intervals. (Intermediate/Advanced)
Strong Nation®
This class combines body weight, muscle conditioning, cardio and plyometric training moves synced to original music that has been specifically designed to match every move. This demanding workout engages the entire body. (All Levels)
Yoga
Synchronized poses along with breath work are sure to enhance circulation, flexibility, stamina, strength, balance and inner calm. (All Levels)
Zumba
Bring on the fun in this dance based aerobics class featuring movements inspired by various styles of dance and is performed primarily to Latin, Hip Hop and World rhythms. (All Levels)
Note: When beginning any new exercise program, check with your physician first. Participants should listen to their bodies, work at their own pace and cease any exercise that causes pain to reduce and avoid injury. By performing any of the suggested exercises, you are performing them at your own risk and Harper College will not be responsible or liable for any injury or harm you may sustain as a result of the online fitness videos, information shared on our website, in emails, and through social media. Thank you for your understanding.