Campus Recreation Virtual Workouts
Campus Recreation Virtual Workouts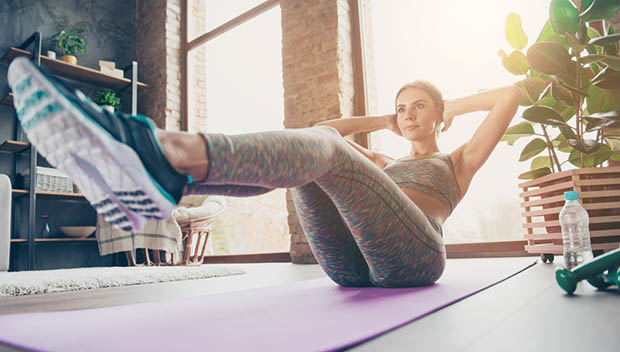 Campus Recreation wants you to stay healthy and fit while practicing physical distancing. Exercise releases endorphins, which create feelings of happiness. Studies have shown that exercise can help boost your mood, improve your sleep and even alleviate symptoms of depression. Now more than ever, we need to find ways to cope.
In-person group exercise classes. Learn more.
Harper Campus Rec Virtual Workouts
Our virtual workouts are led by certified group exercise instructors and are sure to improve your overall fitness, relieve stress and provide you with a safe and effective workout that is motivating and fun.
Current Virtual Workout Schedule:
Thursday 8 a.m. Move, Manipulate and Meditate w/Dan 60 minutes
Thursday 5:30 p.m. Zumba® w/MaryAnn 60 Minutes (begins Thursday, January 27)
Harper Campus Rec Virtual Workout Descriptions
Move, Manipulate and Meditate
The Power of Three, suggests that things that come in threes are more satisfying, more effective, and more memorable. We want you to move and manipulate your body through the practice of natural movements. Natural movements challenge your body to stretch, lengthen and strengthen like never before. Mindfulness and meditation techniques are utilized to enhance mental clarity and focus. No equipment necessary. (All Levels)
Zumba®
Zumba® is a dance-based aerobic workout featuring movements inspired by various styles of Latin American, Hip Hop and Pop dance, and is set to Latin and World rhythms. All fitness levels welcome.
Note: When beginning any new exercise program, check with your physician first. Participants should listen to their bodies, work at their own pace and cease any exercise that causes pain to reduce and avoid injury. By performing any of the suggested exercises, you are performing them at your own risk and Harper College will not be responsible or liable for any injury or harm you may sustain as a result of the online fitness videos, information shared on our website, in emails, and through social media. Thank you for your understanding.