Campus Recreation Virtual Workouts
Campus Recreation Virtual Workouts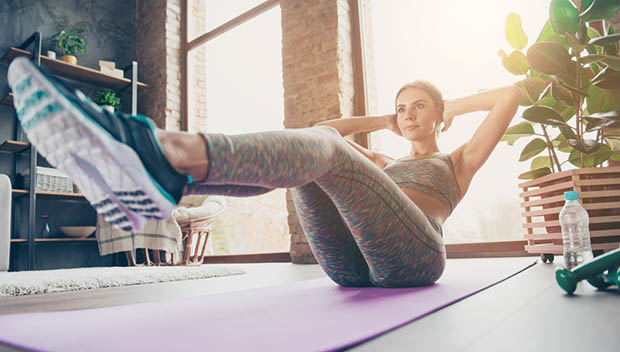 Campus Recreation wants you to stay healthy and physically fit while practicing physical distancing. Join us in any of our live workouts daily.
Three Ways to Join Our Daily Virtual Workouts:
Harper Campus Rec Fitness Workout Scheule
Improve your cardio and gain strength by participating in Full Body Circuit Training, Pilates Cross Training and HIIT. Improve your strength and flexibility by participating in Yoga, Body Flow, Core Strength and Stability. All of our virtual workouts are led by our certified fitness instructors and are sure to improve your overall fitness, relieve stress and provide you with a safe and effective workout that is motivating and fun. Click on the links above to gain access to these a numerous other virtual fitness workouts. Click on the links above to access the virtual workouts.
New! Monday 12 p.m. Full Body Circuit Training w/Cindy 60 minutes
Tuesday 4 p.m. Yoga w/Cat 60 minutes
Wednesday 12 p.m. HIIT w/Beth 60 minutes
Thursday 8 a.m. Move, Manipulate and Meditate w/Dan 60 minutes
Friday 12 p.m. Core Strength and Stability w/Cindy 60 minutes
Saturday 9:30 a.m. HIIT w/Beth 60 Minutes
New! Sunday 11 a.m. Pilates Cross Training w/Jenn 60 Minutes
Harper Campus Rec Workout Descriptions
Core Strength and Stability
This core workout combines both barre-style and mat based exercises designed to activate your glutes, quadriceps, hamstrings, deep abdominal and lower back muscles. These body weight exercises will strengthen your core muscles increasing balance and flexibility, thereby enhancing mobility. All you need is a mat and chair! (All Levels)
Full Body Circuit Training
There is power in simplicity. If you want to get better at something, sometimes the best thing is to do it and do it often. This circuit style workout is sure to give you a metabolic boost by tapping into the principal of EMOM (Every Minute on the Minute) to build strength and endurance. The second portion of the workout consists of more traditional body weight mat work. (All Levels)
HIIT
This non-stop powerhouse workout is guaranteed to burn calories and get your heart pumping. HIIT includes High Intensity Interval Training by combining strength exercises with cardio in short intervals. (Intermediate/Advanced)
Move,

Manipulate and

Meditate (formerly Body Flow)
The Power of Three, suggests that things that come in threes are more satisfying, more effective, and more memorable. We want you to move and manipulate your body through the practice of natural movements. Natural movements challenge your body to stretch, lengthen and strengthen like never before. Mindfulness and meditation techniques are utilized to enhance mental clarity and focus. No equipment necessary. (All Levels)
Pilates Cross Training
Pilates cross training is the fastest way to reshape your body and add definition. Body weight and mat based exercises strengthen the muscles, followed by more active cardio based exercises that increase your heart rate. The result is a strong graceful body, including elongated thighs, sculpted arms, flat abs, and a lifted bottom, as well as improved posture. This fast paced workout will burn plenty of calories too. (All Levels)
Strong Nation®
This class combines body weight, muscle conditioning, cardio and plyometric training moves synced to original music that has been specifically designed to match every move. This demanding workout engages the entire body. (All Levels)
Yoga
Synchronized poses along with breath work are sure to enhance circulation, flexibility, stamina, strength, balance and inner calm. (All Levels)
Note: When beginning any new exercise program, check with your physician first. Participants should listen to their bodies, work at their own pace and cease any exercise that causes pain to reduce and avoid injury. By performing any of the suggested exercises, you are performing them at your own risk and Harper College will not be responsible or liable for any injury or harm you may sustain as a result of the online fitness videos, information shared on our website, in emails, and through social media. Thank you for your understanding.