Campus Recreation Group Exercise Classes
Campus Recreation Group Exercise Classes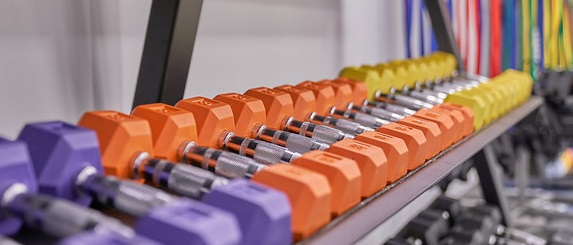 Campus Recreation and Harper Wellness offer a variety of group exercise classes FREE for Health and Recreation Center members starting Monday, September 30, 2019!
Our classes are led by certified group exercise instructors with expertise in providing motivating, challenging and fun group exercises classes to a wide range of populations. Formats include strength, cardio, core conditioning, dance, Spin, and mind-body.
Our facility features three group exercise studios, a dance studio, spin studio and large group exercise studio with new state-of-the-art equipment.
Monday Group Exercise Schedule

Time
Class Format
Location
Instructor
9 - 9:50 a.m.
Body Flow
M2501
Daniel
12:15 - 1 p.m.
Core Bar
M2501
Cindy
4:30 - 5:20 p.m.
Zumba
M2501
Yumi
5:30 - 6:20 p.m.
Spin
M1008
Laura
6:30 - 7:20 p.m.
HIIT
M1010
Beth
Tuesday Group Exercise Schedule

Time
Class Format
Location
Instructor
11:30 a.m. - 12:15 p.m.
Track Intervals
M2505
Joe
4:30 - 5:20 p.m.
Yoga
M2501
Cat
5:30 - 6:20 p.m.
Strength
M1010
Julie
6:30 - 7:20 p.m.
Spin
M1008
Laura
Wednesday Group Exercise Schedule

Time
Class Format
Location
Instructor
9 - 9:50 a.m.
Yoga
M2501
Cat
12:15 - 1 p.m.
Core Mat
M2501
Cindy
4:30 - 5:20 p.m.
Pilates Mat
M2501
Andrea
5:30 - 6:20 p.m.
Spin
M1008
Laura
6:30 - 7:20 p.m.
Zumba

M2501

Rod
Thursday Group Exercise Schedule

Time
Class Format
Location
Instructor
11:30 a.m. - 12:15 p.m.
Track Intervals
M2505
John
4:30 - 5:20 p.m.
Yoga
M2501
Cat
5:30 - 6:20 p.m.
Pilates Mat
M2501
Andrea
Friday Group Exercise Schedule

Time
Class Format
Location
Instructor
8 - 8:50 a.m.
Strength
M1010
Julie
11:30 a.m. - 12:10 p.m.
Body Flow
M1010
Laura
Saturday Group Exercise Schedule

Time
Class Format
Location
Instructor
9 - 9:50 a.m.
HIIT
M1010
Beth
Effective 9/30/2019 to 12/22/2019
Group Exercise Class Descriptions
Body Flow
You will breathe, focus, move, stretch and balance like never before. Body Flow allows you to move with your breath while building strength and working on your core, deep abdominal muscles, hip and lower back. (All Levels)
Core Bar
This class combines core training with easy to follow ballet exercises designed to lengthen and tone muscles, increase core strength, balance, leg strength and hip mobility. (All Levels)
Core Mat
Core Mat is designed to activate the abdominals, pelvic floor, and lower back by utilizing body weight exercises to strengthen the core, increase balance and enhance mobility. (All Levels)
HIIT
This non-stop powerhouse workout is guaranteed to burn calories and get your heart pumping. HIIT includes High Intensity Interval Training by combining strength exercises with cardio in short intervals. (Intermediate/Advanced)
Pilates Mat
Based on the principals of Joseph Pilates, this mat based class will strengthen and lengthen muscles, while opening joints and releasing tension. This is a powerful workout designed to improve strength, flexibility, posture, and coordination. (All Levels)
Spin
This high-energy studio cycling class will take you on an exciting journey of hill climbs, sprints, and intervals that focus on form, speed, strength, and endurance. Heart rate monitors will be available for checkout in the Spin Studio before class. (All Levels)
Strength
This class is designed to build lean and strong muscles while increasing overall endurance. Equipment includes a variety of hand weights, medicine balls, the body bar, resistance tubes and your own body weight for a total body workout. (All Levels)
Track Intervals
Fitness walking is serious exercise, yet it is the safest and most natural activity for health and fitness. Our instructors will lead you through a variety of walking intervals combined with resistance tube strength segments. This class is low impact and is sure to build strength and stamina. (All Levels)
Yoga
Synchronized poses along with breath work are sure to enhance circulation, flexibility, stamina, strength, balance and inner calm. (All Levels)
Zumba
Bring on the fun in this dance based aerobics class featuring movements inspired by various styles of Latin American dance and is performed primarily to Latin American dance music. (All Levels)