On campus and online: Harper is ready to serve you
On campus and online: Harper is ready to serve you

Harper College News Bureau

July 6, 2021

July 6, 2021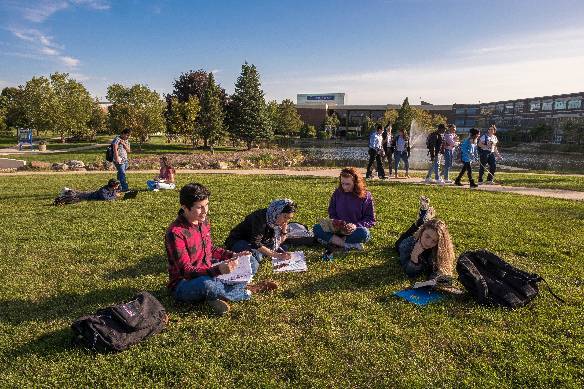 From classes to services, Harper College is increasing its on-campus presence.
The college has announced hundreds of in-person and blended courses for the fall, added on-campus hours for advisors, counselors and the library, and is embracing the return of Harper's vibrant campus community.
Students are able to choose courses that are on campus, online or a blend of the two. When browsing courses, students can narrow their search by selecting the type of format that best suits them.
"Within online learning, there are options – 'Online LIVE' and 'Online ANYTIME' – to create the best opportunities for students," said Bob Parzy, Harper's associate provost for enrollment services. "The quality of education is very strong regardless of the method. Our goal is to provide flexibility to community members, whether they are seeking a certificate or degree, or looking to further their careers or find a new one."
Scholarships and Financial Aid
Harper provides generous tuition relief:
Additional information about financial assistance is available here.
Harper's Continuing Professional Education (CPE) courses are designed for adults seeking short-term career certificates or looking to transition to a new field of work. In consideration of adult students' schedules, Harper offers a range of short-term classes, including eight-, 10- and 12-week courses.
From traditional credit classes to CPE offerings, students can select from a vast course catalog, featuring everything from accounting and architecture to diversity and dinosaurs, health and history to composition and chemistry. Harper remains dedicated to innovation, providing training and education to suit new and emerging workforces, including drone technology and cannabis science programs.
The college is also equipped to help students financially. Harper is providing some of the most generous tuition relief programs in its history, $4,000 Moving Forward Scholarships for CPE students negatively impacted by COVID-19, Women's Program funding and more. Additional information is available on the Financial Aid and Scholarships webpage.
"Harper's financial support for students is the strongest I've ever seen," said Parzy, who has been a Harper employee for 15 years. "We don't want money to be a reason why someone won't enroll. We're doing everything we can to remove financial barriers."
The college's student support goes beyond fiscal assistance. Harper is increasing on-campus hours for services including Admissions Outreach, the One Stop, the Registrar, the Center for New Students and Orientation, Hawks Care Resource Center and Counseling Services, Advising Services, the Testing Center, Access and Disability Services, and the Women's Program.
Student Services
For on-campus and online hours, click each Harper service:
Appointments are encouraged, but walk-ins are welcome. Offices and services are maintaining virtual hours too. More information, including virtual and on-campus hours, is listed for each service on its webpage. For links to a variety of offices and areas, as well as health safety precautions, visit the Coming to Campus page.
In addition, the Foglia Foundation Health and Recreation Center, Harper College Library, MegaLab and HarperStore are open, as is the on-campus Subway location. The bookstore will continue to offer online shopping and the library will maintain online services.
For first-time or returning students seeking an introduction to the entire college or a specific program, Harper offers a range of virtual information sessions for learners of any age, those interested in Fast Track, the University Center, Paralegal Studies, career and technical programs and more. Visit the Information Sessions page for details. New students can sign up for welcome sessions, hosted virtually or in-person (which includes a campus tour).
Tours are far from Harper's only on-campus events, which include the free summer concert series at the outdoor pavilion, Wellness Wednesday Workouts by the Water, InZone summer camp and family-friendly outdoor movie nights in July and August.
"Harper is part of the community. We're you," Parzy said. "We have multiple options to help you get to the next phase of your education, your career, your life. We're here to serve our community."