Financial Aid and Scholarships
Financial Aid and Scholarships

Desire. Determination. Drive. Dedication.
This is what it takes to turn your dreams into reality.
You've got this. Now go for it with the help of One Million Degrees.


Join One Million Degrees and unlock your limitless potential with the OMD comprehensive scholar development model.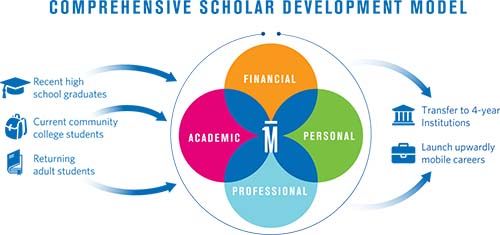 Our support includes:
Personal Supports:

Caring staff and coaches, committed to seeing you through academic, professional and personal challenges and opportunities.
Civic engagement and leadership development opportunities to empower you to self-advocate and drive meaningful change

Academic Supports:

Tutoring and academic interventions to ensure you're excelling in your classes and are on track to graduate
Guidance as you transition to a four-year university

Financial Supports:

Stipends to help you while you're attending school
Financial literacy and counseling to help you plan for your financial future

Professional Supports:

Workshops and career exploration activities designed for success beyond college
One-of-a-kind events to let you put what you learn into practice
Appy now or learn more about the application process.
Contact Us:
Jessica Papa
Director of One Million Degrees, Harper College
Building A, Room A364
847.925.6522